School Officials Wage Sneak Attack on America's No. 1 High School 
Fairfax County, Va., to Replace Merit-Based Test with Lottery with Race Goals
By Asra Q. Nomani
ALEXANDRIA, Va. – Public school officials in Virginia have been quietly working for months to dramatically change admissions standards for America's No. 1 high school and they are set to launch their first attack this week.
Education experts say those efforts are part of the growing "critical race theory" movement to undermine merit-based admissions policies, exploiting the momentum of Black Lives Matter to push their controversial policies through bureaucracies, using "cancel culture" to silence critics.
Last Tuesday, September 8, FCPS officials "updated" the admissions page for TJ with a note that the application "window" for eighth graders had "changed."
According to people familiar with the "changed" admissions plan, Fairfax County Public Schools Superintendent Scott Brabrand and his staff are planning to release a plan as early as Monday to permanently eliminate the race-blind, academic-based admissions test to Thomas Jefferson High School for Science and Technology, or TJ, ranked the No. 1 high school by US News and World Report this year, replacing it with quotas and lotteries with one aim: racial engineering.
Under the new admissions policy to be presented at a Tuesday school board "work session," watchable online at this link, Fairfax County Public Schools staff would enter into a lottery the names of students with a certain minimum GPA, very likely a 3.5. GPA, at each middle school that feeds into TJ and offer admission to TJ at random. This effort to use geographical quotas as a proxy for race is meant to survive constitutional scrutiny. The "work session" will be from 1:30 p.m. to 4 p.m., following a discussion on "racism and anti-bias" curriculum that will set the tone for the attack on TJ.

'If Done Right' Can Pass Constitutional Scrutiny
Education advocates complain such a system of leaving admissions to random chance will result in some of the top students being denied admissions to TJ and is less desirable than either a standardized test or a "holistic" admissions system. Such advocates have further warned that the change would necessitate stripping TJ of its high-level STEM curriculum, undercutting the very mission of the school.
"This effort has been a longtime coming," said education expert and former school teacher Cheryl Buford, "and the current political and social media environment has emboldened educational activists to come out of the woodwork and attack schools like Thomas Jefferson High School for Science and Technology." Living in Fairfax County, where she is the parent of a TJ alumnus, Buford added, "Campaigns like this one expose the intent of activists to dismantle merit-based schools of excellence like TJ, to further their misguided notion of equity. Why isn't Fairfax County, relentlessly seeking to build the ranks of high-performing students among the underrepresented communities, rather than simply dismantling TJ? "
People familiar with the plan said Brabrand's proposal would put in place geographical quotas, similar to criticized schemes that public school officials in neighboring Loudoun County, Va., and New York City have floated to adjust the racial makeup of their specialized STEM high schools. In Loudoun County, 37 parents filed a lawsuit to block a similar move, alleging that changes passed in August by their school board violate the equal protection requirements of the 14th Amendment, which states, "No State shall…deny to any person within its jurisdiction the equal protection of the laws." A Fairfax County Public Schools spokesperson said she couldn't comment on details of the plan but that it would be released this week.
For years, race-based admissions processes of the kind Fairfax County school officials are planning to propose, have been challenged in the courts as unconstitutional, on the grounds they violate Title VI of the 1964 Civil Rights Act, which states, "No person… shall, on the ground of race, color, or national origin, be excluded from participation in... any program or activity receiving Federal financial assistance." The neighboring Loudoun County lawsuit includes as evidence a video statement by the local school superintendent stating a desire to increase the number of "black and brown" students in his STEM magnet schools. Similarly, participants, including the Fairfax County school superintendent, met this summer in a series of opaque "task force" meetings led by the Virginia Secretary of Education Atif Qarni, speaking in detail about race-based motivations for the new changes to schools like TJ, including strategies for avoiding constitutional scrutiny by using proxies for "race and ethnicity" that "if done right" could avoid legal challenge, while achieving the effect, according to meeting minutes.
Last week, in a "listening session" with students at TJ and another Virginia magnet school, Qarni argued for eliminating academic entry tests and replacing them with "holistic" admissions, a popular buzzword in "critical race theory," criticizing students and their families who prepare for admissions tests and, to the ire of some students and parents watching, comparing test preparation to taking illegal "performance enhancing drugs." Qarni didn't return repeated requests for comment. (Here is a transcript of his comments.)
As I argued in a Washington Post op-ed on Friday, schools like TJ are the epitome of diversity, with TJ having 79 percent minority students, mostly from immigrant families. But Asian families, particularly from India, find themselves on the wrong side of brown, even being called "white adjacent" and compared to "white supremacists" in the buzzwords of ideologues of "critical race theory."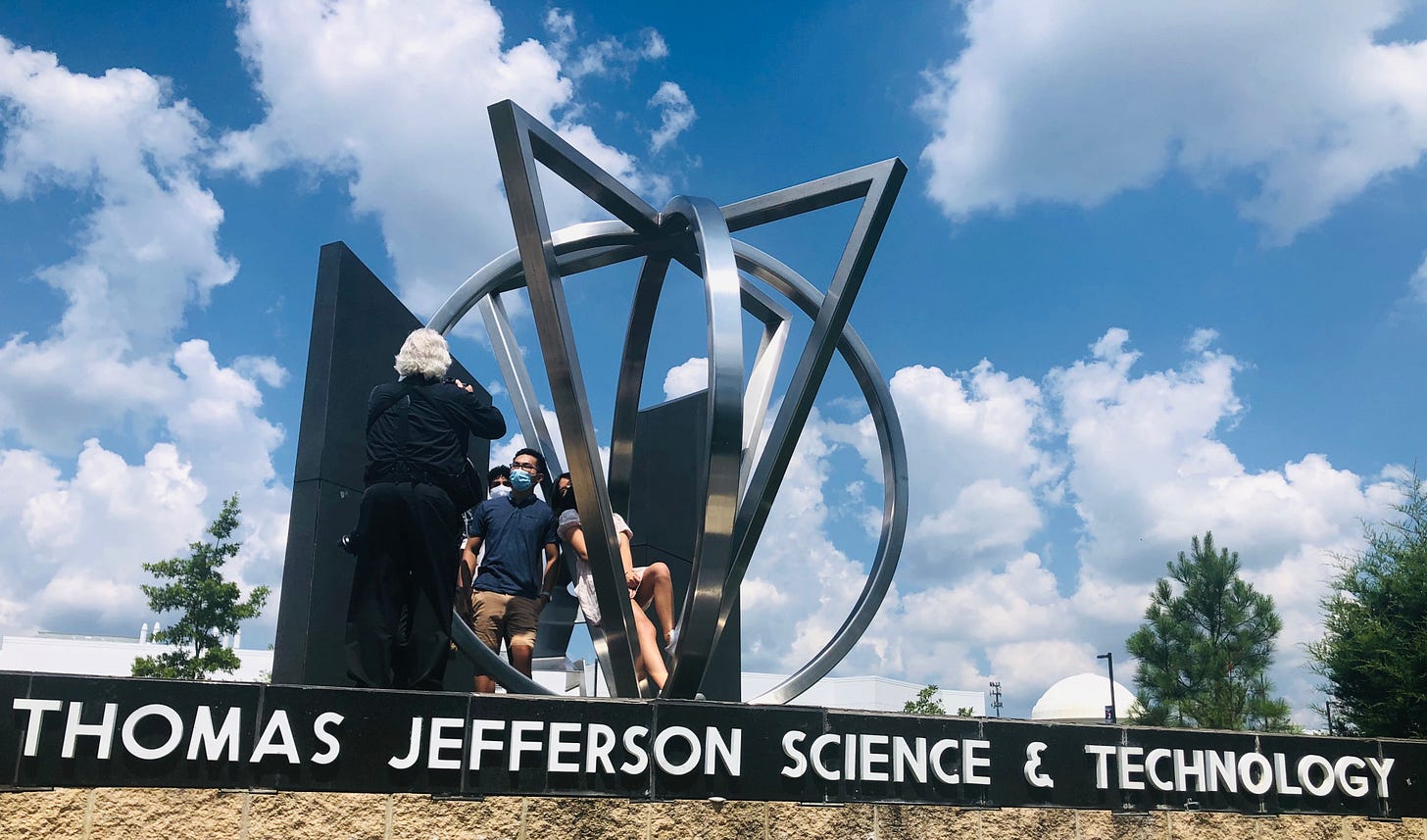 'Stem Alone is Not Enough'
Public school officials have been hinting at these changes for months. In a June 7 letter to parents, asking the school's mostly immigrant parents to check their "privileges" and raising the issue of conforming the racial demographics of TJ students to Fairfax County, TJ Principal Ann Bonitatibus quoted an alumnus saying, "STEM alone is not enough."
The next month, in a July article in the Washington Post, education reporter Hannah Natanson wrote, "Bonitatibus took the job as principal three years ago partly because of the school's reputation for a lack of diversity: She thought she could help improve it. Now it feels like the best chance has come." Natanson quoted the principal saying, "All students who have a passion for STEM should feel like they could potentially be a student at TJ," adding, "I'm looking forward to this being a community effort." Bonitatibus couldn't be reached for comment prior to publication.
To students, alumni, community members and parents, such as myself, the parent of a TJ student, the new plan amounts to decision-making by committee at its worst. The plan eliminates the current system of race-neutral admissions and replaces it with random chance. It's not even clear that STEM interest will be a necessary criterion for selection to TJ.
Seizing Domain Names
An organization that I joined, Coalition for TJ, has been a vocal and strong advocate in favor of race-blind admissions based solely on merit, writing a petition to Virginia Governor Ralph Northam, educating Virginia state representatives, organizing educational video conferences and developing solutions. A Change.org petition by Coalition for TJ to challenge moves by Education Secretary Qarni has generated more than 2,500 signatures, and the group is now raising funds to fund a legal and lobbying effort to improve diversity with real and serious programs, not Band-Aid solutions like the kind Fairfax County officials are set to propose.
In response, a group of opposing activists, called "TJ Alumni Action Group," has responded with guerrilla tactics, including threatening to physically "Occupy TJ," trolling on Facebook and Twitter, infiltrating and photographing Coalition for TJ Zoom sessions and doxxing members of the Coalition for TJ. And, in August, Makya Renée Little, a director of the TJ Partnership Fund (a group that raises funds for TJ and diversity efforts) the president of the activist "TJ Alumni Action Group" and a member of Gov. Northam's Virginia Commission on African-American History Education, went so far as to seize the domain names of CoalitionForTJ and Coalition4TJ and redirect them (to this day) to the website for her group, "TJ Alumni Action Group." Little, the " TJ Alumni Action Group" and the TJ Partnership Fund didn't return queries for comment before publication. Virginia Education Secretary Qarni sits on the African-American history education commission with Little.
Fortunately, the "TJ Alumni Action Group" forgot to seize one domain name. As a result, the official Coalition for TJ website is CoalitionForTJ.net.
The Long War on TJ
The plan strikes at the heart of parents such as Swarna Ram (a pseudonym because she is afraid of retaliation from school officials), an immigrant mother living in Ashburn, Va. Born in India, she grew up with such humble beginnings her parents couldn't afford to buy her a bicycle, so she borrowed her friend bike for a spin on Mahatma Gandhi Road in their hometown. With the value of education deeply instilled in her by her parents, she immigrated to the U.S. with her husband, who mopped floors to make ends meet during their early years. Pinching pennies, they would buy their Post Raisins and Pecans cereal at a local Wal-Mart because it was cheaper than at their neighborhood AMP grocery store. Their son is now in eighth grade, with his hopes for admission to TJ left to chance, if the new plan goes into effect. It isn't clear whether Fairfax County will continue to accept admission for students from neighboring counties such as Loudoun County, where Ram lives, as do many families from India, whose children have gained admission to TJ through the current system.
"This is all so disappointing," she said. "I came to this country for the American Dream, and I am devastated to see that we are being locked out of it because we don't matter anymore."
The long war on TJ was perhaps inevitable, as activists have for years been trying to dismantle the school. This year, they invoked ideas from a controversial philosophy called "critical race theory," or "CRT," exploiting the May 25 killing of a Black man, George Floyd, by a white police officer in Minneapolis. Established in the 1980s at Harvard Law School, "critical race theory" has taken off over the last decade across American colleges and academic thought.
'Equal Outcomes'
This year, these ideologues have infused their controversial ideas in K-12 public school systems and school boards, from California to Fairfax County, Va., and thousands of school districts in between and beyond. A key concept is the notion that advanced academic schools, like TJ, are components of "systemic racism." The self-confirming evidence of "systemic racism" is that students of different races don't have "equal outcomes," measured by representation that matches school demographics.
When Fairfax County Public Schools released numbers on the students admitted to the Class of 2024 in early June, with only six black students in the class, a loud but vocal minority of TJ alumni activists, their allies on the local school board and even public school officials pointed to the admissions process, the school — and even TJ parents and students — as racist with "privileges," instead of looking deeply into the failure of state and county officials to properly fund and support the education of black, Hispanic and socioeconomically disadvantaged students in STEM, on the path to TJ.
Fairfax County Public County officials are working lockstep with Virginia Education Secretary Qarni who has expressed strong opposition to the current admissions process at TJ and 18 other Governor's Schools with selective admissions. Since mid-August, Qarni has triggered criticism recently, acknowledging to an Associated Press reporter that he had banned the TJ PTSA from a listening session this Tuesday because of the religious beliefs of one of its members (me).
"Critical race theory" advocates are closely watching what happens in Fairfax County and its assault on America's No. 1 high school because it could offer a blueprint for their wider campaign to dismantle merit-based education nationwide.
If these disturbing efforts succeed, it will not be enough to just work hard and be the smartest kid in the classroom. What will really count is not your report card but what box you check on the race card.
Asra Q. Nomani is a former Wall Street Journal reporter and a parent at Thomas Jefferson High School for Science and Technology. She can be reached at asra@asranomani.com.
---
How to Be Engaged
Remember no matter where you live in the world, you have a stake in education. Participate, write, call, advocate for merit and real solutions for underrepresented minorities, not Band-Aid fixes.