BREAKING: Daniel Pearl's Kidnapper Wrote Jailhouse Admission
Significant development as Pakistan Supreme Court set to hear family case on Monday
Pearlpedia documents available for public use:
By Asra Q. Nomani 
On Monday, three judges in the Supreme Court of Pakistan are scheduled to hold an important hearing in the 2002 kidnapping and murder of Wall Street Journal reporter Daniel Pearl, and lawyers for Pearl's elderly parents have included an important new piece of evidence in the case: a handwritten jailhouse admission by the mastermind of the kidnapping, admitting for the first time a "role" in the deadly plot.
Anyone who cares about a free press and safe society should pay attention. As Wall Street Journal reporter Saeed Shah reports today from Pakistan, the case "has become an important litmus test of Pakistan's relationship with the U.S," writing that family attorney Faisal Siddiqi noted the letter contradicts Sheikh's earlier position, "maintained from the beginning, that he had no connection to the killing."
In the admission, publicly released now for the first time, British-Pakistani militant Omar Sheikh confirmed his guilt in a three-page, hand-scrawled letter dated July 19, 2019, and asked for a hearing to escape his death sentence and "clarify my actual role in this matter," arguing it was "a relatively minor one…."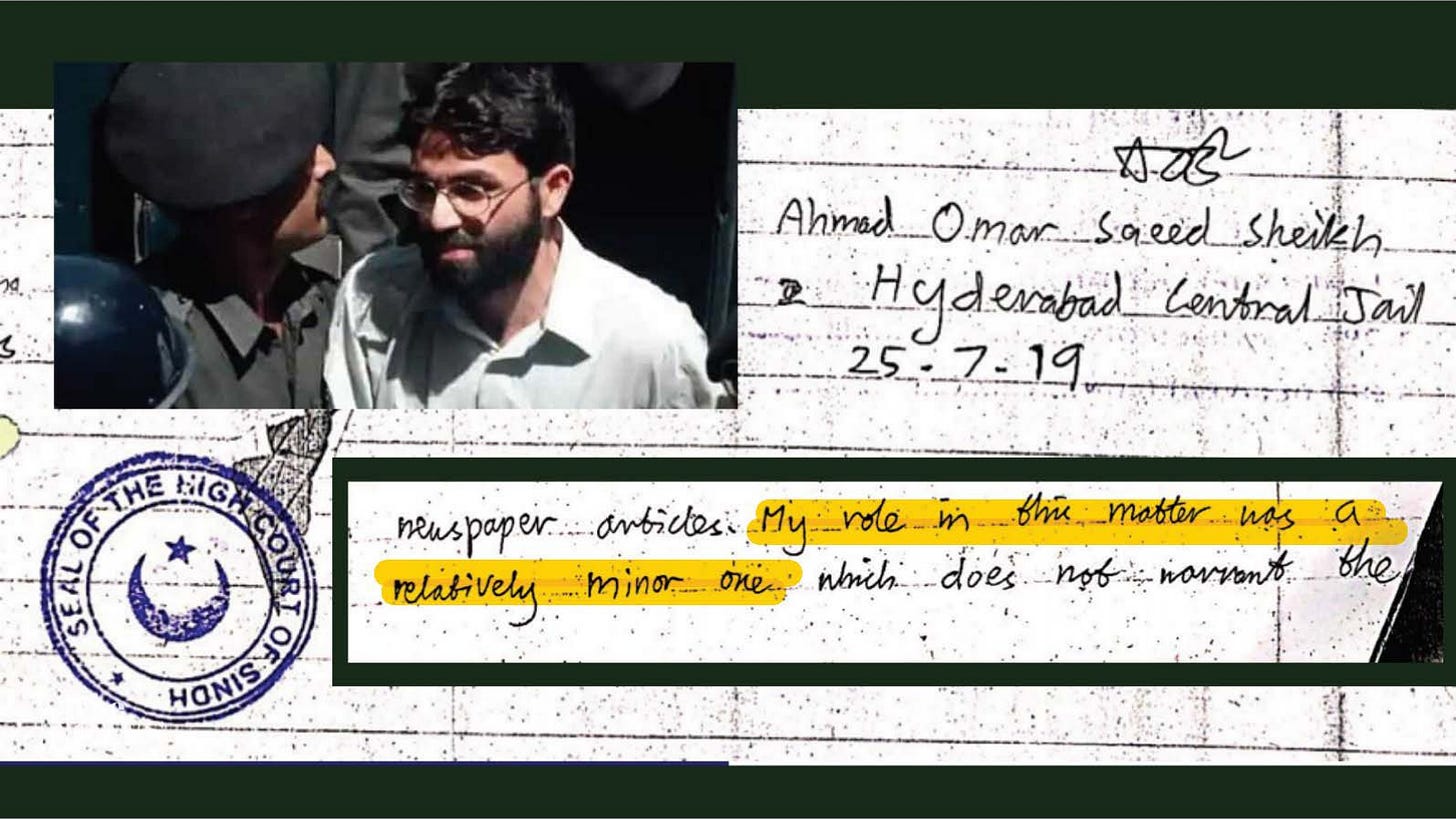 That's a lie, of course. He was the spider who lured Pearl into a web of murderous extremists who killed him. But the letter is important for more than Sheikh's tepid, if belated, honesty. The Sindh High Court certified the authenticity of the letter.
Previously, in his 2002 trial, Sheikh, claimed he had "never" met Pearl.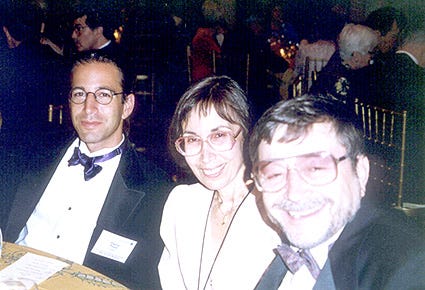 In the letter, discovered by lawyers working for Faisal Siddiqi, a Pakistani criminal attorney representing Danny's parents, Sheikh claimed he was "a scapegoat" arrested amid U.S. "pressure," and the real culprit was a Karachi militant, Attaur Rehman. 
To exonerate himself, Sheikh cited "several newspaper articles," a book by French philosopher Bernard-Henri Lévy, "Who Killed Daniel Pearl?" and a report by an "American university commission which researched the whole matter." He was referring to the Pearl Project, a multiyear faculty-student investigation I co-led at Georgetown University. In fact, in our report, we established that Sheikh hired the Karachi militant Attaur Rehman after he had enticed Danny to Karachi. 
Danny's parents, Ruth and Judea Pearl, said, "Omar Sheikh has now declared — in his own words — what we have always known: he is guilty. He is responsible for our son's murder, and we will leave no stone unturned in seeking justice for our son."
The admission by Omar Sheikh to even a "role" in Danny's tragedy is a stunning reversal of 18 years of adamant denials. From the moment he set the trap for Pearl's abduction to the work he did recruiting co-conspirators, Sheikh is 100 percent responsible for Daniel Pearl's tragic murder. Like so many journalists, Pearl trusted his source. He was betrayed in 2002. That betrayal must be corrected today — in 2020 — with justice for Daniel Pearl.
Steven Butler, Asia program coordinator at the Committee to Protect Journalists, said, "Omar Sheikh's admission of involvement in the 2002 kidnapping of Daniel Pearl that led to his murder provides further proof for what we have known for years: that Sheikh is ultimately responsible for the tragic outcome of Pearl's abduction and should be punished accordingly."
On Saturday, Sheikh's lawyer suddenly filed a motion for an adjournment, producing a physician's order that he'd had "suffered heart attack" on September 19 and had to have "15 days bedrest."
At stake in this case is not only justice for Danny – a friend and colleague with whom I worked together at the Wall Street Journal – but also Pakistan's ability to contain its decades-long problem with homegrown extremism. In recent weeks, extremists in Pakistan have taken to the streets to protest the republication of cartoons by the Charlie Hebdo magazine they consider "blasphemous," with Pakistani Prime Minister Imran Khan condemning the cartoons yesterday as "Islamophobia," as a Pakistani man in Paris stabbed two journalists at the old offices of Charlie Hebdo.
The courtroom drama over Danny's case began the morning of April 2, when a judge in Karachi, Pakistan, read a shocking decision, in the midst of the global COVID-19 crisis, that he was freeing Sheikh and three other men, pronouncing Sheikh and his three co-defendants innocent of kidnapping for ransom and murder. Sheikh was guilty, the judge said, "only" of abduction. He deemed the other men innocent of all charges. Most shocking of all, he said Danny's murder was not an act of terrorism.
In May, as we worked around the clock to mount a defense of justice for Danny, the state of Pakistan and Danny's parents – Ruth and Judea Pearl – filed appeals and the Supreme Court of Pakistan just announced it will meet on Monday to hear the appeals. It's expected to rule that the case can move forward and the wheels of justice are expected to slowly churn.
While the "war on terror" ended long ago for many Americans, Danny's case underscores a tragic reality: the battle against Islamic extremism still rages today in Pakistan – unresolved. For Pakistan to progress, it must end its dangerous dance with extremism and close this disturbing chapter of its history.
That won't happen if Sheikh and his accomplices go free.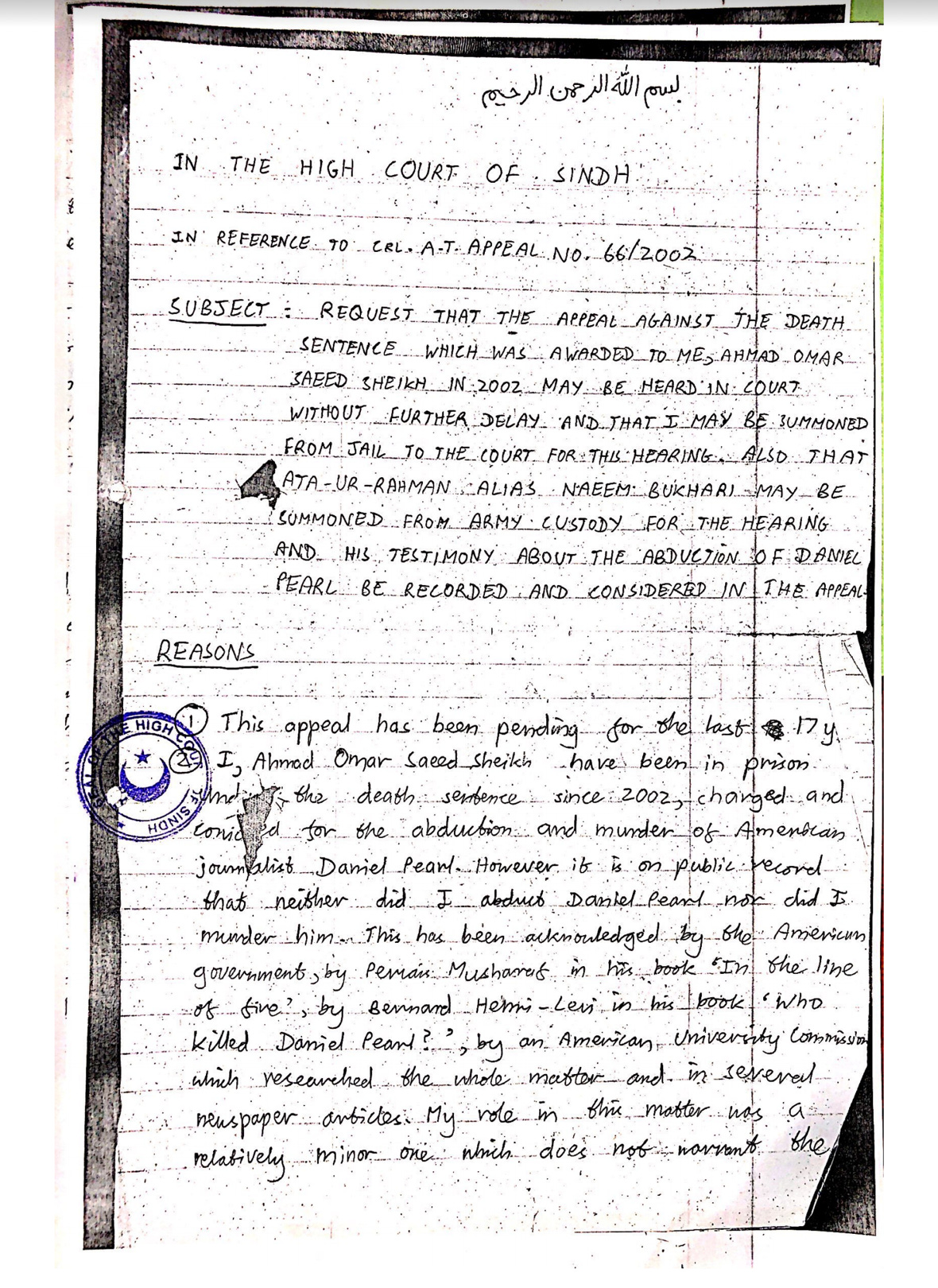 In January 2002, in Pakistan for post-9/11 reporting, Danny, ever the reporter, was chasing a story claiming a Pakistani cleric had directed Muslim convert Richard Reid to detonate shoe explosives while flying over the Atlantic in December 2001. Danny was no cowboy.
He sent me an email just weeks earlier saying, "I'm anxious to get into Afghanistan, but I'm not anxious to die." 
On Jan. 11, 2002, in Room 411 of the Akbar International Hotel, Danny met a bespectacled man who said he was a student of the cleric. He was actually Omar Sheikh, convicted in India for the 1994 kidnapping of tourists. After their meeting, Sheikh told Danny he could interview the cleric in Karachi. 
When Danny agreed to the interview, Sheikh flew to Karachi for clandestine meetings, including at places like Snoopy Ice Cream Parlour, tapping militants, including his three co-defendants, to provide muscle for a ruthless scheme he called "jihadi work." That same day, on Monday, Jan. 21, 2002, Pearl emerged from a sonogram clinic in Islamabad with his wife Mariane, five months pregnant, and texted me, "It's a boy!!!!!" The next day, he got on a plane with Mariane for Karachi.
Sheikh was the spider who lured Danny into a web of extremists.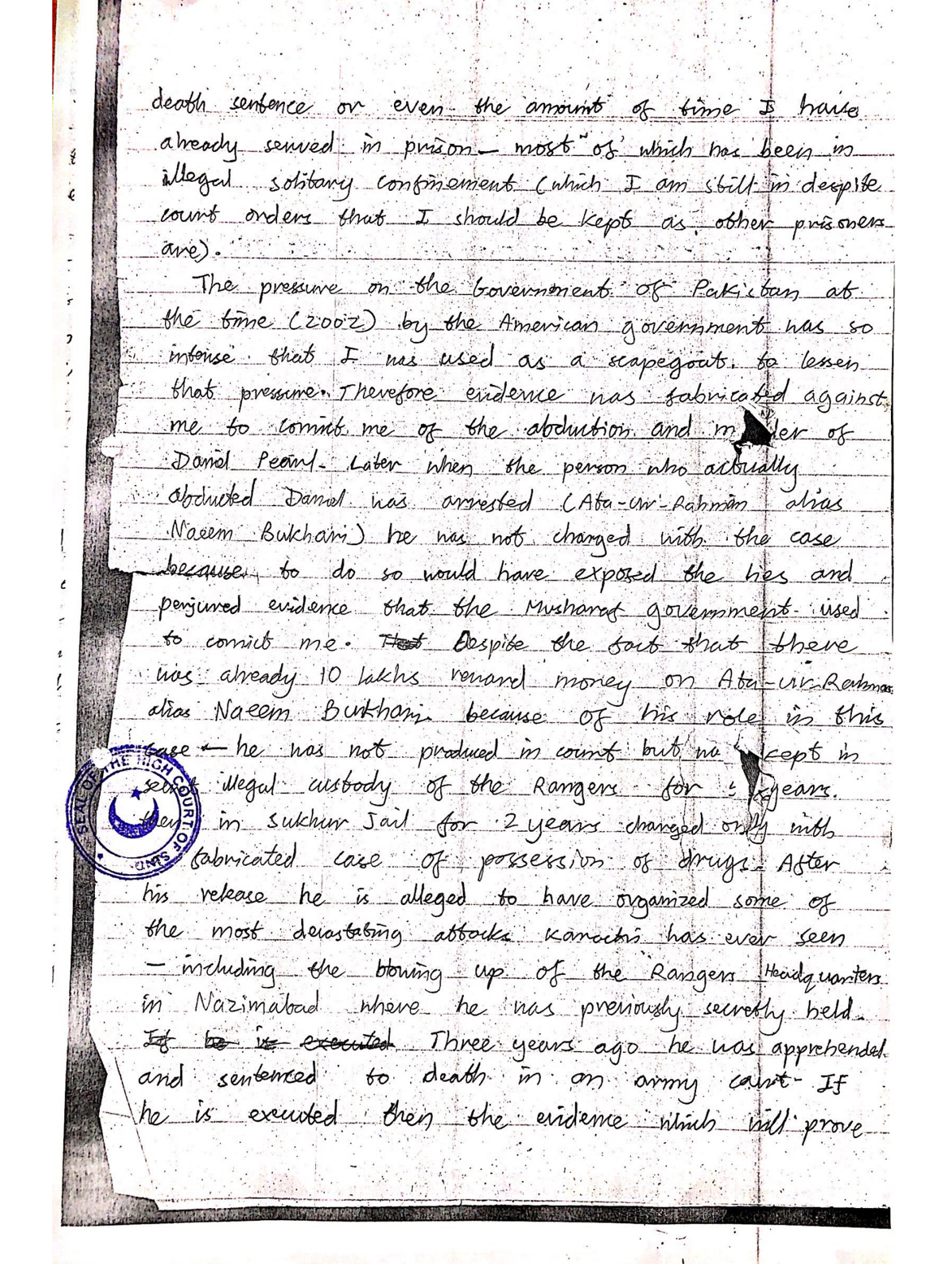 The April decision to free Sheikh and three co-conspirators triggered a storm across two continents, hurtling many of us back 18 years ago. In Karachi, Danny and his wife stayed at my house. On Jan. 23, 2002, I waved goodbye to Danny, as he slipped into a taxi, taking him to an interview and then — unbeknownst to all us — stepping into Sheikh's spider web of deceit and betrayal. This past summer, culling dusty files to help Danny's parents and family appeal the recent judicial decision, I reached into a box simply marked, "Danny," packed with my friend's old notebooks, and I pulled out a 2002 article he had written and photocopied, headlined, "Militant groups in Pakistan thrive despite crackdown." It could have been published today.
The militant groups Danny wrote about—Jaish-e-Muhammad and Lashkar-e-Taiba—still thrive in Pakistan, inspired by the same leader, Masood Azhar, and rallying cries that Danny chronicled 18 years ago. In 2002, Danny's kidnapper, Sheikh, turned himself over to a family friend and former ISI official, Ijaz Shah, then a Punjab province official. Today, he is the country's powerful interior minister. He did not respond to a WhatsApp message I sent him. 
Before his murder, Danny wrote about efforts in Pakistan to "restrain the militant groups." But that remains a challenge, with Pakistan still trying to get off a "gray list" of the Financial Action Task Force, which investigates terrorism financing. Earlier this year, too,  the Pentagon Inspector General issued a report  that warned that Pakistan "continues to harbor" militants from the Taliban, the Haqqani Network and "associated militant groups."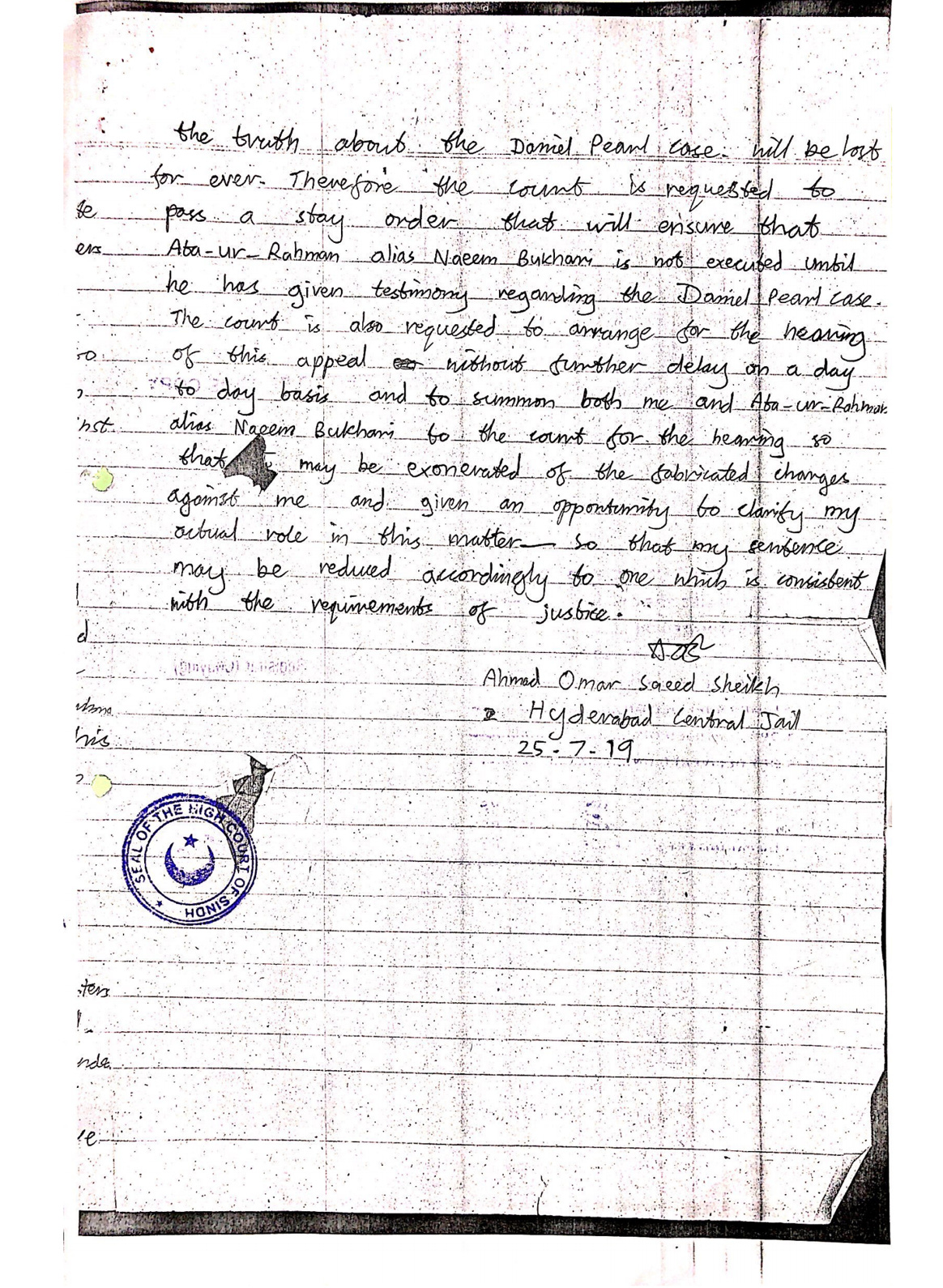 Meanwhile, this year, the Pearl family has fought tirelessly for justice over Zoom calls and WhatsApp group chats over three time zones. In April, Danny's parents signed a power of attorney over video with a notary public. I ferried the papers to the Embassy of Pakistan in Washington, D.C., to get "attestation" stamps, a photo of Pakistan's secularist founder Muhammad Ali Jinnah watching over me in the embassy waiting room. The Pearls, in a video to Pakistanis, made clear that they filed their appeal not just to attain justice for their son, but so their friends in Pakistan "can live in a society free of violence and terror."
Last year, Sheikh signed his admission letter with his name and "Hyderabad Central Jail." For the future of the world, prison should remain the permanent address for these militants, so Pakistan can finally shut down its homegrown enterprise of "jihadi work."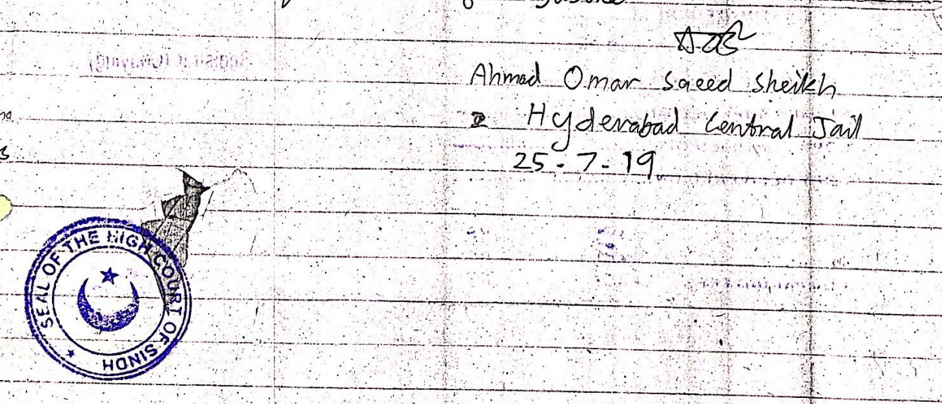 Asra Q. Nomani is a former Wall Street Journal reporter and codirector of the Pearl Project, which has investigated the kidnapping and murder of slain journalist Daniel Pearl. She can be reached at asra@asranomani.com.
---
Transcript
July 19, 2019, Admission Letter from Omar Sheikh to the Sindh High Court
Page 1
[STAMP] Presented 19. 02. 2002
[STAMP] SEAL OF THE HIGH COURT OF SINDH
IN THE HIGH COURT OF SINDH, KARACHI
SPECIAL ANTI TERRORISM CRIMINAL APPEAL NO: 66 / 2002
=======================================
AHMAD OMAR SHEIKH
S/O SAEED AHMAD SHEIKH
BUSINESS,
13–9/11, Ahmad Park,
Moni Road,
LAHORE
NOW CONFINED AT
CENTRAL PRISON,
HYDERABAD …………………………………………………………………… APPELLANT
vs.
THE STATE …………………………………………………………………… RESPONDENT
APPEAL U/S 25 (3) OF ANTI TERRORISM ACT, 1997
=======================================
Page 2
[Handwritten]
[STAMP] SEAL OF THE HIGH COURT OF SINDH
[In Arabic] Bismillah ir-rehman ir-raheem [Translation: In the name of Allah, the beneficent, the merciful]
IN THE HIGH COURT OF SINDH
IN REFERENCE TO CRL AT APPEAL NO. 66/2002
SUBJECT : REQUEST THAT THE APPEAL AGAINST THE DEATH SENTENCE WHICH WAS AWARDED TO ME, AHMAD OMAR SAEED SHEIKH IN 2002 MAY BE HEARD IN COURT WITHOUT FURTHER DELAY AND THAT I MAY BE SUMMONED FROM JAIL TO THE COURT FOR THE HEARING. ALSO THAT ATA-UR-RAHMAN ALIAS NAEEM BUKHARI MAY BE SUMMONED FROM ARMY CUSTODY FOR THE HEARING AND HIS TESTIMONY ABOUT THE ABDUCTION OF DANIEL PEARL BE RECORDED AND CONSIDERED IN THE APPEAL.
REASONS
(1) This appeal has been pending for the last 17 y.
(2) Ahmad Omar Saeed Sheikh have been in prison under the death sentence since 2002, charged and convicted for the abduction and murder of American journalist Daniel Pearl. However, it is on public record that neither did I abduct Daniel Pearl nor did I murder him. This has been acknowledged by the American government, by Pervais Musharraf in his book. In the line of five, by Bernard Henri-Levi in his book "Who killed Daniel Pearl?", by an American University commission which researched the whole matter and in several newspaper articles. My role in this matter was a relatively minor one which does not warrant the 
Page 3
[STAMP] SEAL OF THE HIGH COURT OF SINDH
death sentence or even the amount of time I have already served in prison — most of which has been in illegal solitary confinement (which I am still in despite court orders that I should be kept as other prisoners are).
The pressure on the Government of Pakistan at the time (2002) by the American government was so intense that I was used as a scapegoat to lessen that pressure. Therefore evidence was fabricated against me to convict me of the abduction and murder of Daniel Pearl. Later, when the person who actually abducted Daniel was arrested (Ata-ur-Rahman alias Naeem Bukhari) he was not charged with the case because to do so would have exposed the lies and perjured evidence that the Musharet government used to convict me. Despite the fact that there was already 10 lakhs reward money on Ata-ur-Rahman alias Naeem Bukhari because of his role in this case — he was not produced in court but was kept in secret illegal custody of the rangers for 5 years, then in Sukkur jail for 2 years charged only with a fabricated case of possession of drugs. After his release he is alleged to have organized some of the most devastating attacks Karochi has ever seen — including the blowing up of the Rangers Headquarters in Nazimabad where he was previously secretly held. If he is executed Three years ago he was apprehended and sentenced to death in an army court. If he is executed then the evidence which will prove 
Page 4
[STAMP] SEAL OF THE HIGH COURT OF SINDH
the truth about the Daniel Pearl case will be lost for ever. Therefore the court is requested to pass a stay order that will ensure that Ata-ur-Rahman alias Naeem Bukhari is not executed until he has given testimony regarding the Daniel Pearl case. The court is also requested to arrange for the hearing of this appeal without further delay on a day to day basis and to summon both me and Ata-ur-Rahman alias Naeem Bukhari to the court for hearing so that I may be exonerated of the fabricated charges against me and given an opportunity to clarify my actual role in this matter — so that my sentence may be reduced accordingly to one which is consistent with the requirements of justice.
[Signature]
Ahmad Omar Saeed Sheikh
Hyderabad Central Jail
25–7–19
CERTIFIED TO BE TRUE COPY
05–05–2020
Assistant Registrar
---